Learn about the Storyboard, where you'll lay out your app.
The storyboard is where you lay out the visual aspects of your app, and where you can install modules and templates. It's a great tool for working out how flows proceed within your app, and for all things design related. If you're using our Figma Import feature, this is also done via the storyboard page.
To get to the storyboard, click on "Storyboard" on the left-hand side of the Crowdbotics dashboard. You'll see your modules and screens, if you have any yet, displayed on the grid. Buttons on the right side allow you to edit, view and add modules or templates, or use an AI to suggest modules for you.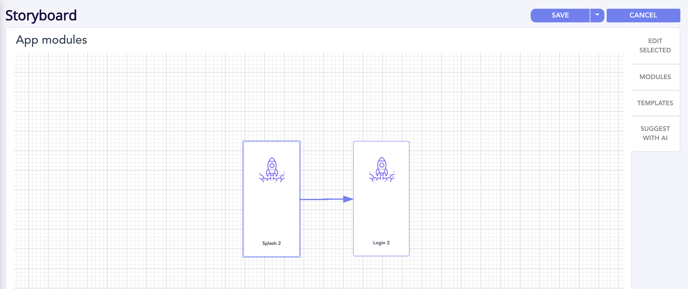 To add modules, click on "Modules" and select the module you would like to install. Drag and drop the module to the canvas, and then click save. You can create display links between modules by dragging on the white circles at the sides of each module. Note that these arrows are purely cosmetic, and do not add code to your project, however, installing a module does install code. To view what has been installed, go to your Github repo after installing a module and clicking save.