What is the Electronic Signatures screen?
Find out about the electronic signatures screen and whether you need it for your build.
The Electronic Signatures screen is a drag-and-drop screen you can easily add to your build from the Modules page on your Dashboard.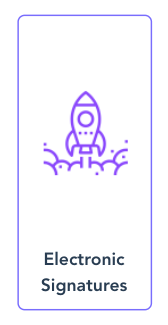 Your app may need this functionality if you require a signature at any point in your user flow. The electronic signature is just like a real signature on a contract or document, but it's processed and saved digitally. If you've ever signed a document online, that's the same thing.
Add this functionality to your app and allow your users to e-sign within the app.